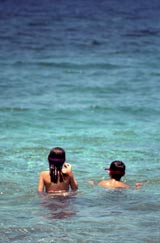 Katelios is a beautiful little fishing village on the southeast of Kefalonia Island. It is the southernmost village of Kefalonia located just on the edge of Ainos mountain range. During recent years Katelios has turned into a well-known but quiet tourist resort. However, it never lost its endemic character since the locals still keep their traditional occupations such as fishing and agriculture. Also, due to the size of the Katelios plain, our guests will often have the chance to witness unharmed specimens of the Mediterranean nature.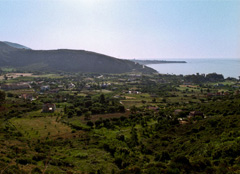 Katelios has a selection of taverns, restaurants and bars where our guests will have the chance to taste the local cuisine and enjoy the night life. Renting a boat and other activities are also available at the Katelios beach.
Please click here to find us on the map.
Beaches:
Agia Barbara
The main beach of Katelios awarded with a blue flag.
Katelios
Just in front of the bars and restaurants, it's a good choice if you're planning drinks or dinner right after sunbathing.
Lihidi
Not really a beach but a great place for snorkeling fans. You'll find it just after the restaurants and bars on the western side of Katelios' coastline.
Kaminia
If you walk on the trail over the rocks on the east of Agia Varvara you'll shortly find yourselves in Kaminia, a beautiful and long sandy beach. If you're up for a longer walk you can follow the coastline eastwards all the way to the cape of Mounda.
… and some more nearby but on wheels:
Koroni
This is one of the greats of the south coast. No need to get water supplies, just fill your bottles from the springs near the beach.
Sissia
A 20 minutes' walk on gravel road from the Sissia monastery on the way to the island's capital, Argostoli. May be a bit tiring on the way up but it's worth it.
Please click here for a map view.
Trails:
Back when pirates ruled the waters of the Mediterranean, Katelios could not be but a small fishing village and stayed like that until the early 90s. The villages surrounding the valley of Katelios where using it for their agricultural activities. Some of the trails to and from Katelios used back then are still walkable but sadly mostly abandoned. We suggest the trail to Pastra that gets you through old watermills, hills and rivers that you wouldn't expect to find near Katelios. If you're up for this adventure make sure you get a walking stick, water and be extra cautious for snakes avoiding high and dense vegetation.
That's all for starters but…
There's so much more to explore on this side of Kefalonia: Trails, old and forgotten villages abandoned after the 1953 earthquake, beautiful landscapes and isolated beaches. If you're up for it just ask around and make your way to it.