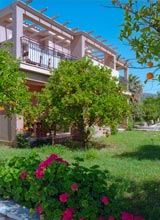 Nature
Our apartment buildings spread over an area of thirteen thousand sq/m of Mediterranean and often indigenous flora. Enthusiasts of the Mediterranean nature will be delighted to find a variety of over two hundred trees and have a taste of their fruit.
Pool-jacuzzi
All of our premises are open and free of charge to both our guests and visitors. Please feel free to use our pool and jacuzzi as well as the tennis court and playground. Here you won't find any extra costs for sun loungers & umbrellas or minimum consumption policies. A children's swimming pool is also available just by the playground area. Please note that there is no life guard on duty at any time. Lifebuoys are available around the pool.

Tennis court
The tennis court is located just by the pool bar and playground. Please feel free to ask for rackets and balls at the pool bar. Both the use of the tennis court and the gear are free of charge to both our guests and visitors. Just note that tennis balls often get lost and we might not be able to supply at any time. Please consider buying your own.
Pool bar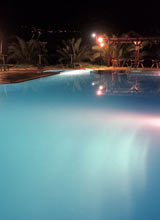 The pool bar is open from early in the morning till late at night where our guests are welcome to enjoy drinks, refreshments and food. The kitchen is open from early in the morning until 4 pm. Please let us know of your preference on beers, spirits and cocktails or local drinks. You may also enjoy your favourite coffee or tea alongside a wide variety of snacks and breakfasts prepared with the finest local products. Join our BBQ nights once a week with a buffet of local meats and salads.
Please note that the pool bar also operates as a reception desk. We strongly encourage our guests to report any problems immediately to any of the staff members at the pool bar.