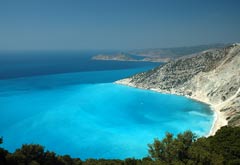 Kefalonia is the largest island of the Ionian sea. The terrain is mountainous while most villages and towns are located on the foot of the mountains. The terrain of the island and the Ionian climate compose the endemic character of the Kefalonian nature and beauty.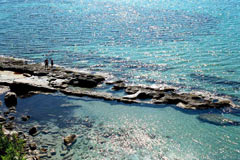 Kefalonia is an island full of natural wonders surrounded by the emerald waters of the Ionian Sea. Here, according to the legend, every year on the 15th of August harmless snakes appear at the church in Markopoulo. Also, there are goats with golden teeth, Caretta-caretta turtles that welcome the tourists in Argostoli and it's also true that the Ainos Mountain has a shade of black instead of green. How's that? The soil in Kefalonia is rich in minerals and lends a gold shade in some animals' teeth. The rare Caretta-caretta turtles choose the coasts of the island to give bear and it's not
rare to see egg nests on some beaches. In Argostoli there's one single turtle that's so friendly that it often surfaces when there are people around. Also, the indigenous fir, Abies Cephalonica gives a dark colour to the tops of the Ainos Mountain; wild horses live free in the hillsides of the mountain while rare Mediterranean seals nest in the rock caves along the island's coastline.
The island has a long history starting many thousand years ago. It flourished during the ancient Classical Greece time but went through multiple sovereigns and wars due to its strategic position. The ruins of ancient towns and castles spread throughout Kefalonia witnessing the island's eventful history. The recent excavations of some impressive Mycenaean graves suggest that the legendary King of Itaca, Odysseus was eventually buried in the south-eastern Kefalonia. A variety of such treasures from the past are exhibited in the Archaeological museum in Argostoli, the island's capital.
Even though Kefalonia is now a well known tourist resort most of its beauties remain unharmed and unexplored. The sparsely populated terrain along with the dense vegetation of its hillsides allows the existence of untouched specimens of local flora and fauna that paint the picture of this wonderful island.